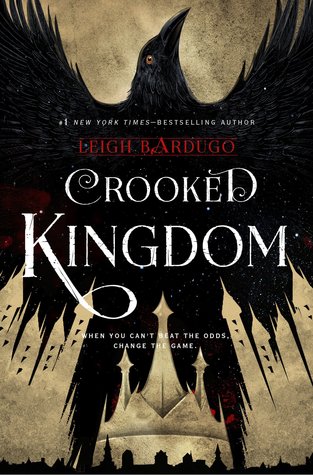 This book is the sequel to Six of Crows and the final book in the Six of Crows duology. To read my thoughts on Six of Crows, you can read my spoiler-free review.
Crooked Kingdom picks up pretty much where Six of Crows left off. The gang are on a mission both to claim their prize from their last heist job and to prevent the formula for jurda parem – a drug that enhances the powers of Grisha but is highly addictive – from falling into the wrong hands.
Yet again, character development is second to nothing I've ever read before. We got to read from Wylan's perspective in this book which was great, especially as the relationship between Wylan and Jesper developed. And I'm still absolutely besotted with Nina and Matthias.
However, the pacing problems that I kind of felt during Six of Crows were even more apparent in Crooked Kingdom. It took me much longer to read Crooked Kingdom (although I wasn't on holiday unlike when I read Six of Crows). I just felt like there were longer gaps between the big moments than there were in the first book, and I didn't feel quite so excited to keep reading because of that.
As a whole though, I really did love this book and I was almost moved to tears while reading. It filled in a lot of the knowledge gaps that were left at the end of Six of Crows and I really miss the characters a lot now that I've finished reading it. I definitely need to read more Leigh Bardugo because I can't remember the last time I felt so strongly about characters in a book.
I gave Crooked Kingdom 4 out of 5 stars on Good Reads. Sorry this one was a bit shorter, but it's really difficult to review sequels with out spoilers!
Love,
Hannah x