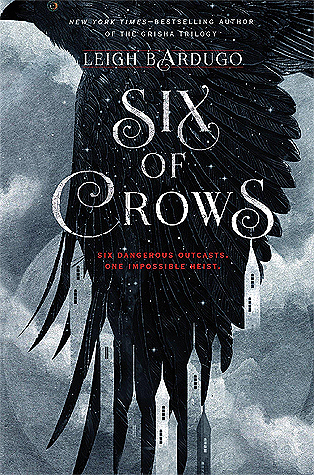 Six Of Crows is a multi-perspective fantasy story set in the Grishaverse. It follows a group of six young outcasts as they set out to smuggle a prisoner out of jail who has invented a drug which massively enhances the powers of Grisha, but is extremely addictive. Each of the six has their own reason for taking part, whether it be for the money or to protect the world from the new drug.
I initially picked up this book because I had heard that it was a fantasy heist, which sounded like it was just my kind of book. However, I didn't hear or read anywhere before starting that this took part in the Grishaverse so when I started reading and realised that this was the case, I was concerned. I haven't read the Grisha trilogy and until then had no desire to do so. But I did a bit of research and became fairly confident that I didn't need to read the Grisha trilogy before reading Six of Crows, so I got started.
Far and away the best thing about this book is the characters. They all go through so much growth and by the end of the book they almost feel like your friends. A lot of the time when I hear people talk about this book, I hear them talk about the romance between Kaz and Inej and it is great, but I actually prefer the romance between Nina and Matthias. I also love that Nina is a bigger girl. She's never actually referred to as fat or large in a negative way though only that she's curvy and that she loves food.
My only problem with the characters is that sometimes the perspectives can be quite difficult to differentiate. I found that I had to remind myself quite often which perspective I was actually reading from.
For the most part, I thought that the plot was great too. So often, when a book has great character development, it sacrifices plot and I've always preferred plot driven books. I did initially have an issue with the pacing around the middle of the book, but now that I've finished it, I've changed my mind. Everything was relevant and the characters were just so good that I wouldn't want to take away anything from their individual arcs.
I also loved reading about Grisha and I'm now interested in reading the Grisha trilogy where I hadn't been before.
I loved this book enough that I immediately started the sequel. I normally have to have a break between books in a series but I just needed to continue on with these amazing people that Leigh Bardugo has created.
I gave this book 5 stars on Good Reads and I can't wait to finish Crooked Kingdom and bring you my review of that. This isn't actually the first book that I finished since I decided to start writing book reviews here, but I had the unfortunate event of disliking a book and didn't want to start on a low note.
Lots of love,
Hannah x